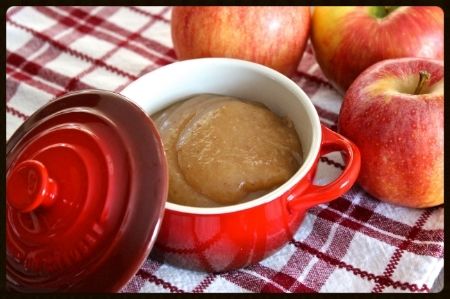 This was my first time making applesauce from scratch. I have not been able to get enough of it. It will keep good covered in your refrigerator for 2 weeks. The sweetness of this applesauce is out of this world without a pinch of sugar added. It is good for you and tastes just like an outrageous-zillion-calorie dessert. I will never try another applesauce recipe again, this one is my go-to!
Ingredients:
2 Honey Crisp Apples
5 Golden Delicious Apples
7 Gala Apples
2 tablespoons of Lemon Juice, freshly squeezed
1 teaspoon of Cinnamon
1/8 teaspoon of Nutmeg
Directions:
First, peel half of your apples, and then core all of them.
Now, in a small bowl whisk together the lemon juice, cinnamon, and nutmeg. Place all of the apples in a large bowl and toss them with the lemon mixture.
Place in a large crockpot (7-8 quarts) and cook on low for 4 hours.
Blend with an immersion blender, blender, or food processor until desired consistency is reached.
Serve warm or chilled.
Enjoy!
Happy Cooking,
The Barbee Housewife
Source: Mel's Kitchen Cafe